Hammond Baptist Schools Early Learning Center.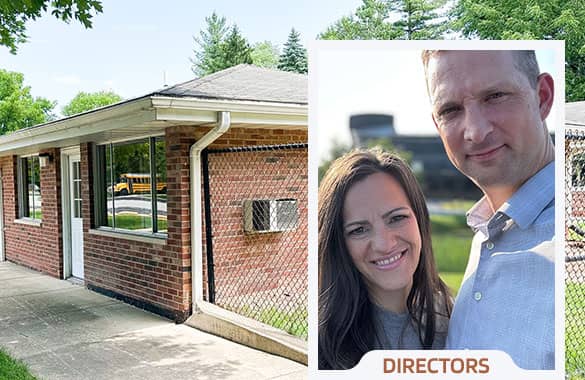 Welcome to Hammond Baptist Schools Early Learning Center, a ministry of First Baptist Church of Hammond, Indiana. Our pastor, John Wilkerson, is director of all church ministries. Hammond Baptist Early Learning Center provides tender loving care for children 3 & 4 years of age.
Adam and Atina Merhalski are members of the
First Baptist Church of Hammond
, Indiana. Adam has attended First Baptist all of his life and is vice principal at
Hammond Baptist Junior High School
. His wife, Atina, moved from the Upper Peninsula of Michigan to Crown Point, Indiana in 1995. They were married in 2002 and have 5 children. Atina has been involved in child care for over 25 years and is the head teacher at the Hammond Baptist Early Learning Center, certified by Indiana Learning Paths.
Enroll your child in our Christian Preschool and witness the transformative impact of our goals on their growth, development, and faith journey.
At our Christian preschool, we believe in the power of fun learning, where children thrive in an engaging environment that sparks curiosity and ignites their love for knowledge. Through our Bible-based curriculum and hands-on activities, your child will embark on an exciting educational journey that combines faith, joy, and discovery.













Experience the well-structured daily routines at our Christian preschool, where your child will benefit from a carefully designed schedule that balances play, learning, and spiritual growth. With a nurturing and organized environment, we ensure that each day is filled with purposeful activities that promote character development and academic advancement.









Invest in Your Child's Future
We understand the trust and financial investment you're making to enable a Faith-filled learning opportunity for your child. We believe that nurturing your child's faith and character is an invaluable investment that will shape their future, that is why our pricing options are designed to accommodate various schedules and budgets while ensuring your child receives the highest quality Christian education.

(Tap Pricing Table to Zoom In)
Ages 3 and 4 ( 3 by December 1 ) and fully potty trained
One Child
Two Children
Three Children


(Same House)

Weekly

(5 days)

$170.00
$280.00
$375.00
Mon-wed

or

WeD-fri
$105.00
$165.00
$200.00
Half day

(5 days a week 4 hours or less)

$140.00
$175.00
$210.00

Registration fee per child is due with application.

Monday – Friday
7:30 A.M. – 4:00 P.M.

After 4:15 P.M., we do not bill for quarter hours. If your child is here 15 minutes or 45 minutes, etc., you will be billed for a full hour.

Any children left after 5:00 P.M. will be charged $3.00 per minute. Excessive late pick ups may be cause for dismissal.
Interested in learning more about Hammond Baptist Schools Early Learning Center? Complete this contact form and one of our friendly administrators will respond as soon as possible.